"I am the 80's... I'm every woman, I'm whoever the hell else they all say they are... It's me... It's all me..."

So said the fictitious supermodel named Milo, the centerpiece of a brilliantly designed comedy special that would get my vote for a CableAce award. "Unauthorizesd Biography: Milo: Death Of A Supermodel" is a lampoon of the A&E television series "Biography". Lizz Winstead, star and executive producer of this half-hour satire, said the idea came to her when she saw a "Biography" of Judge Lance Ito from the O.J. Simpson trial. "I couldn't believe it", she said in an October interview in the New York Post. "So I said, why not create someone who encompasses all of the stereotypes of the genre... and meld them into one fake person?"

It sure as hell paid off. Narrated by former "Daily Show" colleague Brian Unger, Lizz took on the world of, as the promos put is, "dirt, drugs and drag queens", as she portrayed Erma Jean Bagnoll, who, according to Lizz, is "based on every fledgling model who came from the Midwest in the '70's".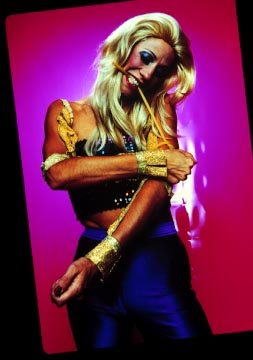 The special documented Milo's life from her youth (which included a plethora of Lizz's real-life photos straight outta the family album), to her discovery by a controversial photographer (while she was working at the Terminal Diner, not too far from Studio 54, where she would later be the most sought-after celebrity), to her social switch from disco to punk (as her quote-unquote biographer pointed out, "she was the ultimate chameleon") to an early '80's career-disabling heroin stupor (or as she likes to refer to it as "a heap of drugs") to her mid-80's comeback and reacceptance to society (at one point, her biographer compares her to John Travolta) to her tragic death by a psychotic fan from Long Island named Jane Fusco (in a photo that is shown twice, the head of a woman, supposedly Miss Fusco, is pasted in the middle of a scene in Studio 54. So it's nice to know that Adobe Photoshop isn't a waste of money!). Give Lizz lots of credit for booking an insurmountable array of celebrities, from designer Todd Oldham and psychologist Dr. Joyce Brothers, to to disco diva Vicki Sue Robinson and punk icon Deborah Harry, along with Chris Stein, from Blondie. "They all made up their own scripts, and they ad-libbed a lot", Lizz said in the same Post interview, noting that they were "very cooperative".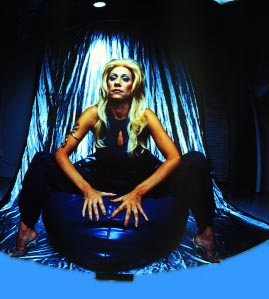 How much time did Lizz devote to "Milo"? "18 hours a day, every weekend for a month... I somehow found the energy", Lizz said, referring to her job at "The Daily Show" --- we all know where that went, don't we? "By the end, I was kind of a raging bitch". To tell you the truth, after once watching "Milo", it made me want to break out the platform shoes and the Trammps 8-track! It was a very nostalgic piece, outrageously splendid at best. So will there be other "Unauthorized Biography" specials in the future? Well, if there are, she would most likely do them for another cable outlet like E! --- but then again, could it compete with their own "E! True Hollywood Story"?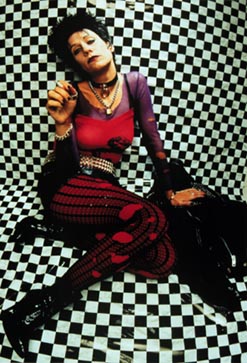 We have a copy of a commercial photo from BusinessWire.com. it was released in late October 1997, when the "Milo" special premiered on Comedy Central. It is a pic of Lizz as Milo, as shown above.
CAUTION!!! This image contains up to 550k!!!

Click here to download!

Here is the description for "Milo" as it appeared on Comedy Central's website in October 1997:
---
Todd Oldham, Deborah Harry, Bebe Buell, Michael Musto, Vickie Sue Robinson and Cyndi Lauper are among the celebrities who will share their memories of the tragic icon.

Elvis. Marilyn. Milo. She was the world's first true supermodel and helped redefine the American ideal of beauty, fashion, celebrity and tragedy. COMEDY CENTRAL goes in depth to flesh out the myths behind the legend in "Unauthorized Biography: Milo -- Death of a Supermodel," a special presentation premiering Monday, October 27 at 10:00 pm - 10:30 pm (ET/PT.)

In life, Milo was both loved and loathed. The celebrity world was observed to revolve around her every move. Todd Oldham, a neophyte fashion designer at the peak of Milo's celebrity, fondly recalls his first brush with the supermodel. "She did my first show and I actually think it was her last show because whe went down the runway and we didn't see her again. She just kinda kept going." Singer/actress Deborah Harry, a fierce rival of Milo's, insists "She stole a lot."

"Unauthorized Biography"'s debut episode commemorated the life of Milo, darling of the glitteratti, disco dive, punk icon, and heroine to drag queens everywhere. Her tragic death in early 1997, by the gun of jealous Jane Fusco, has created a legend that will live on forever. The half-hour special traced the life of this unique starlet, known simply as Milo, from her lonely days as Erma Jean Bagnoll growing up in what she would refer to only as "one of those big, square states" to her saucy, chameleon-like career under the bright lights of New York City. To capture the essence of Milo, "Unauthorized Biography" interviews Todd Oldham, Deborah Harry, Bebe Buell, Michael Musto, Vicki Sue Robinson, Cyndi Lauper and Joe Franklin, among others.

"Unauthorized Biography: Milo -- Death of a Supermodel" is a COMEDY CENTRAL production written by Kent Jones and Guy Nicolucci. Lizz Winstead and Kent Alterman are excutive producers.
---
Back to LIZZLAND Home